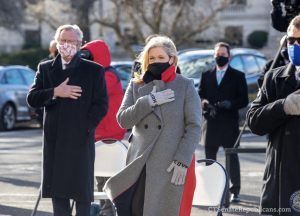 During a Jan. 6 outdoor ceremony at Connecticut's State Capitol, Senator Heather Somers (center) was sworn-in for a third term representing the 18th Senate District. The district includes Griswold, Groton, North Stonington, Plainfield, Preston, Sterling, Stonington and Voluntown.
In addition to serving as Deputy Senate Republican Leader, Somers is the lead Republican on the state legislature's Public Health Committee and the Transportation Committee. She is a member of the Appropriations Committee, which formulates the spending portion of the state budget, as well as the Executive and Legislative Nominations Committee.
Somers also currently serves on the state's Covid Vaccine Advisory Committee and is Chairperson of the Vaccine Communications Subcommittee.
A Groton resident, Somers can be reached at Heather.Somers@cga.ct.gov and at 800-842-1421. On the web:  www.SenatorSomers.com