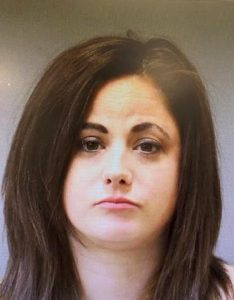 On January 1, 2021 at approximately 2:28 A.M., the Plainfield Police Department arrested Crystal McCowan, 35, of Moosup, CT.
While conducting traffic enforcement in the village of Wauregan an Officer observed a white Ford Focus traveling southbound on South Chestnut Street where she failed to stop at a clearly posted stop sign traveling directly through the intersection of South Chestnut Street and Front Street.
A motor vehicle stop was conducted where McCowan was identified as the operator. During the investigation McCowan was found to have a suspended operator's license and appeared highly intoxicated. McCowan was removed from the vehicle and did not perform the field sobriety tests to standard. McCowan was placed under arrest and transported to the Plainfield Police Department to be processed.
Once at the Plainfield Police Department McCowan was uncooperative during the booking process refusing testing and assaulted two Officers.
McCowan was charged with Operating Under the Influence of Alcohol and/or Drugs, Operating Under Suspension, Failure to Obey Stop Sign, Interfering with an Officer, and Assault on a Police Officer. McCowan was released on bond and is scheduled to appear at the Danielson Superior Court, G.A. 11, on March 1, 2021 at 8:30 A.M.