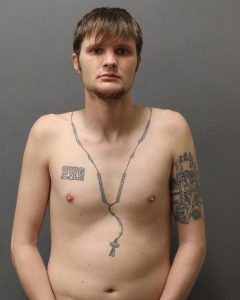 On December 31, 2020 at approximately 10:47 P.M., the Plainfield Police Department arrested Bryant Gardner, 30, of Moosup, CT.
While conducting traffic enforcement in the area of Squaw Rock Road in Moosup, CT, an Officer observed a gray Dodge Stratus traveling northbound over the yellow line into the opposite lane multiple times at which point the Officer conducted a motor vehicle stop on High Street.
The operator was identified as Gardner. An investigation was conducted where the Officer became suspicious that Gardner was in possession of illegal narcotics. The Officer then requested a K-9 Officer to the scene who arrived moments later and deployed his K-9 Vail, a male yellow Labrador trained in narcotics detection who was used to sniff the vehicle where K-9 Vail alerted to the presence of narcotics. A search of the vehicle was conducted where a substantial amount of Suboxone and Crack Cocaine was located along with Drug Paraphernalia.
Gardner was placed under arrest and subsequently charged with Possession of Narcotics, Possession of Drug Paraphernalia, Failure to Store Narcotics in its Original Container and Failure to Drive Right. Gardner was released on a $25,000.00 bond and is scheduled to appear at Danielson Superior Court, on March 3, 2021.