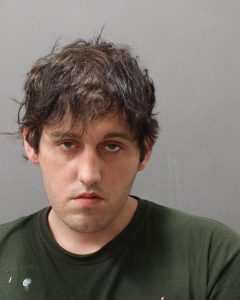 On December 31, 2020 at approximately 7:52 P.M., the Plainfield Police Department arrested 29 year old David Demuth of Dayville. 
While conducting a patrol check of Citgo located at 65 East Main Street, Central Village, CT, an Officer observed a blue Subaru Outback exit the parking lot at a high rate of speed. The Officer attempted to conduct a motor vehicle stop using its emergency lights and siren. The vehicle disobeyed the Officer's signal, driving recklessly violating numerous motor vehicle laws and fled at a high rate of speed onto I-395 north where the operator was seen throwing an item from the vehicle.
A short time later the Officer was able to conduct a motor vehicle stop where Demuth was escorted from the vehicle and placed under arrest. The Plainfield Officer deployed his K-9 Vail, a male yellow Labrador trained in narcotics detection who was used to sniff the vehicle where K-9 Vail alerted to the presence of narcotics. A search of the vehicle was conducted where a large quantity of a controlled substance was located. Further investigation revealed that the Officer had interrupted a drug deal which is the reason Demuth fled the scene. It was also determined that Demuth destroyed evidence by throwing a large quantity of Fentanyl out the vehicle's window prior to the stop. A large amount of U.S. currency was also located in the vehicle and seized.  
Demuth is no stranger to Plainfield Police as he was arrested on September 19, 2020 on drug related charges
Demuth was transported to the Plainfield Police Department and charged with Failure to Give Proper Signal, Disobeying the Signal of an Officer, Interfering with a Police Investigation, Reckless Driving, Destruction of Evidence, Possession of Narcotics with Intent to Sell and Possession of a Controlled Substance with Intent to Sell. Demuth was released on a $25,000.00 bond and is scheduled to appear at Danielson Superior Court, on March 3, 2021.