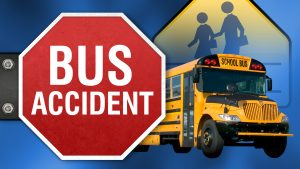 On November 2nd at approximately 6:04 AM a bus from the M&J Bus Company out of Old Saybrook, but working in the Salem School District ran off the roadway to the right, striking a mailbox, swerved to the other side of the road striking a rock wall head on. The bus came to a stop after it rolled onto it's passenger side.  The accident occurred on Hartford Road (Route 85) in Salem.
The operator of the bus, 40 year old Andrea Malarkey of Willimantic was transported to Hartford Hospital via LifeStar Helicopter for their suspected serious injuries. The driver had a passenger, 62 year old Stephen Kasevich, also of Willimantic, was transported to Marlborough Medical Clinic by Colchester EMS for evaluation.
The collision remains under investigation.