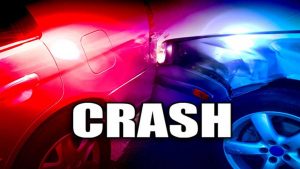 On February 3, 2021, at approximately 6:55 A.M., members of the Plainfield Police Department, American Legion Ambulance, and Central Village Fire Department responded to the scene of a two-car motor vehicle crash on East Main Street, in the Central Village section of Plainfield, Connecticut.
Upon the investigation of responding officers it was determined that a grey 2020 Hyundai Veloster operated by 24 year old Augustus Newland of Canterbury, Connecticut, was traveling westbound in the area of 50 East Main Street when the front end of the vehicle was struck by the front end of a black 2011 Nissan Murano operated by a 17 year old juvenile, that was traveling eastbound on East Main Street attempting to turn left into the Valero gas station. The Veloster then traveled into a snow bank and continuing into the Valero parking striking multiple gas pumps. A small fire had ignited from the gas pumps that was immediately extinguished.
No injuries were sustained in the crash. This crash remains under investigation by the Plainfield Police Department.