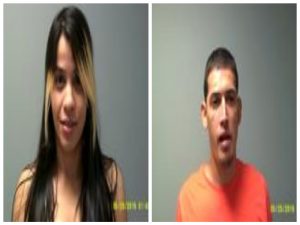 Early Monday morning, 10/19/20 at 1:47 AM, Troop H desk personnel received numerous 911 calls regarding a vehicle
traveling southbound in the northbound lanes on Rte. 9 by exit 30 in New Britain. The vehicle then
got onto I-84 westbound while traveling eastbound. Numerous Troop H troopers responded to the
area. TFC Krynski  (operator) with Tpr Trainee Terry #773 paralleled, then drove ahead of the
vehicle in the eastbound lanes, crossed the center median and was able to stop the vehicle which was
then traveling directly towards theme without any collision or injuries. 33 year old Victor Rivera was found to be the operator of the wrong way vehicle. Rivera was extremely
intoxicated and at times uncooperative. There were three unsecured juveniles (ages 13, 10 and 8) in
the rear seat of the vehicle. The front seat passenger, 33 year old Shirley Roman-Figuerora
was also extremely intoxicated and arrested for three counts of Risk of Injury to a Juvenile. Rivera
was arrested for the above charges including three counts of Risk of Injury to a Juvenile, DUI and
Driving the Wrong Way on a Highway. The vehicle had traveled approximately nine (9) miles in
the wrong direction and nearly cause numerous accidents. Rivera was held on a $20,000 cash or
surety bond and Roman-Figuerora was held on a $10,000 cash or surety bond. DCF was notified and
sent a worker out to Troop H to retrieve the children.