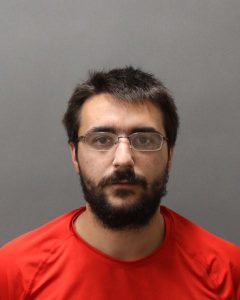 On October 21, 2020 at approximately 8:42 P.M., the Plainfield Police Department arrested 24 year old Robert Newton of Woodstock.
While on patrol in the area of Norwich Road in Plainfield an Officer observed a red Buick van driving erratically and cross over into the opposite lane.
A motor vehicle stop was conducted and through investigation the Officer became suspicious that the operator Newton was in possession of illegal narcotics.
The Officer and his K-9, Vail, a male yellow Labrador trained in narcotics detection was used to sniff the vehicle where K-9 Vail alerted to the presence of narcotics. A search of the vehicle was conducted by K-9 Vail where Newton was found to be in possession of fentanyl, marijuana, and a controlled substance in addition to drug paraphernalia.
Newton was placed under arrest and charged with Failure to Maintain Proper Lane, Possession of Narcotics, Possession of Drug Paraphernalia, Possession of a Controlled Substance and Possession of less than 1/2 oz. of Marijuana.
Newton was released on a $20,000.00 bond and is scheduled to appear at the Danielson Superior Court, December 28, 2020 at 8:30 A.M.