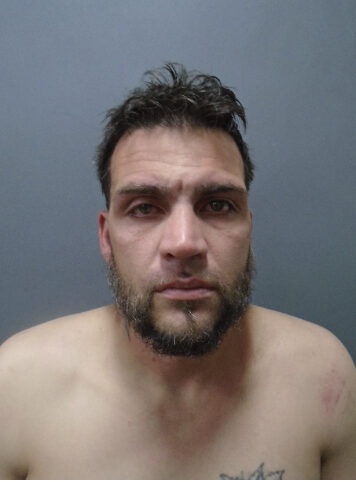 On June 12, 2022 at approximately 5:58 P.M., the Plainfield Police Department arrested the Accused, Daniel Solla, 41, of Moosup, CT.
A Plainfield Officer attempted contact with a male later identified as Solla after observing suspicous activity at the Valero gas station located at 50 East Main Street, Central Village. After attempting to speak with Solla he fled to his vehicle, a green Chevy S10, traveling onto East Main Street. A motor vehicle stop was attempted as the vehicle traveled onto Interstate 395 south towards Plainfield at a high rate of speed attemptimg to elude police.
After identifying the vehicle registration the Officer terminated the attempted motor vehicle stop . It was later determined the vehicle continued off the highway onto Lathrop Road, Plainfield and continued back onto I-395 south. Solla then exited the vehicle fleeing into the wooded area behind behind Highway Campers towards Hanks Dairy Bar.
The Connecticut State Police located the vehicle and tracking K-9 responded to the scene. A perimeter was established by the Connecticut State Police and Plainfield Police Department who subsequently located Solla exiting the woods behind Hanks Dairy Bar. Solla was intercepted by Officers and actively resisted being placed into custody, including biting an Officer. Solla was consequently subdued by the utilization of OC spray and taser deployment.
Solla was placed under arrest and transported to the Plainfield Police Department to be processed. While being transported Solla was uncooperative banging his head and kicking the doors. During the booking process Solla stated that he was heading to Willimantic armed with a knife to settle a dispute which was interupted by the Officer making contact with him.
Solla was subsequently charged with Reckless Driving, Operating an Unregistered Motor Vehicle, Failure to bring Motor Vehicle to a Stop when Signalled and Assault on a Police Officer. Solla was later released on a $50,000.00 bond and is scheduled to appear at the State of Connecticut Superior Court in Danielson, Connecticut on June 27, 2022. Solla was not injured during the incident.
The Officer bit in the altercation received medical treatment at the Backus Emergency Care Center in Plainfield for minor injuries.
All accused parties are innocent until proven guilty in a court of law.