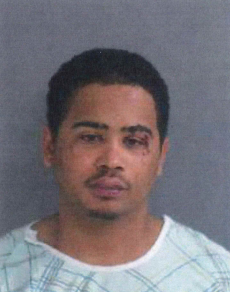 On 12/12/21 at approximately 5:00 AM Troop E and Montville police responded to an accident at the intersection of Route 12 and 2A in Preston where a car hit a guardrail, and ended up being wedged under the guardrail.
The operator of the car, 25 year old Presley Almanzar-Dejesus of Norwalk was in possession of a handgun when EMS arrived. The suspect them started to walk away from the scene of the accident towards the woods. Almanzar-Dejesus also pointed the gun at a Montville Police officer after he arrived on scene. At this point the Montville officer drew his gun which sent Almanzar-Dejesus running into the woods.
The Montville officer then dispatched his K-9 into the woods after the suspect, and was able to capture and subdue him by latching onto his leg. The suspect gouged at the K-9's eyes as well as punching him several times.
Almanzar-Dejesus was then tased and arrested by Montville Police at approximately 5:30 AM.
Aa search of the vehicle, and the area around the vehicle, Police found a loaded high capacity magazine, a .38 Special revolver, and a Glock 9mm. Both the Glock and the .38 Special were found to be stolen out of Bridgeport.
Almanzar-Dejesus was issued a $250,000 bond which he was unable to post. He will be presented in Norwich Superior Court. Below is a list of the charges filed against Almanzar-Dejesus.