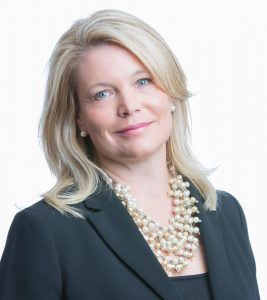 GROTON — State Senator Heather Somers announced Tuesday she will seek re-election to a fourth term representing the 18th district, which includes Griswold, Groton, North Stonington, Plainfield, Preston, Sterling, Stonington and Voluntown.
"It is an incredible honor to represent the hardworking families of the 18th district and I look forward to building on my demonstrated track record of delivering results for our region, challenging the status quo by holding Hartford accountable and fighting with an independent voice for a stronger, more prosperous Connecticut for all families."
"Eastern Connecticut families and small businesses face enormous challenges with historic inflation, sky-rocketing gas prices, perennial tax increases and an anti-business attitude emanating from one-party control in Hartford. That is why I am proud of my work to cut through the noise and advance solutions to deliver tax relief, protect parents' rights, lower health care costs, support small businesses, keep communities safe and hold Hartford and quasi-public agencies accountable to the taxpayers and consumers."
"In the current legislative session, I am leading the mission for a comprehensive approach to address the mental health needs of our citizens, with a detailed focus on children, while continuing to work with superintendents to keep schools open and ensure we have the resources required to maintain local control of decisions that impact our students — including protecting the critical rights of parents."
"If given the honor of serving the 18th district for another term, I look forward to continuing to deliver results and strengthen eastern Connecticut communities and build on my record of helping all families, protecting the environment, providing opportunities for future generations and ensuring those who are most vulnerable are protected."
In Hartford, Somers serves as a tireless and effective advocate for eastern Connecticut. Somers has a successful track record of passing legislation that includes repealing taxes on retirement income and diesel fuel, protecting the environment, preventing damaging cuts to education, combating the opioid epidemic, prioritizing women's health, protecting women from sexual harassment and domestic violence, providing care for first responders with PTSD and more.
Somers has also developed a reputation for being an independent thinker and for holding Hartford and quasi-public agencies accountable. Somers helped lead the charge to expose the mismanagement at the Connecticut Port Authority, demanding a public hearing to hold those in charge accountable. This year, amongst other bills, Somers introduced legislation to ensure the state's Contracting Board be fully funded and moved to the State Auditor office to enable them to continue to be able to review contracts sought by the Port Authority along with other no bid contracts.
Somers was first elected to the State Senate representing the 18th district in November 2016. She has served as the Chair of the Committee on Public Health, Vice Chair of Education, Vice Chair of Environment, Ranking Member of Transportation, member of the Planning and Development Committee, member of Appropriations Committee, member of the Commerce Committee and on numerous caucuses. Somers was recently named Chair of the Senate Tourism Caucus.
Before serving in the State Senate, Somers served as a town councilor in Groton and as the Mayor of the Town of Groton. Somers was a co-founder of a biotech company that continues to expand and supports over 100 jobs in eastern Connecticut. Somers resides in Mystic with her husband Mark. She has three children: Hayley, Ian, and Grace.