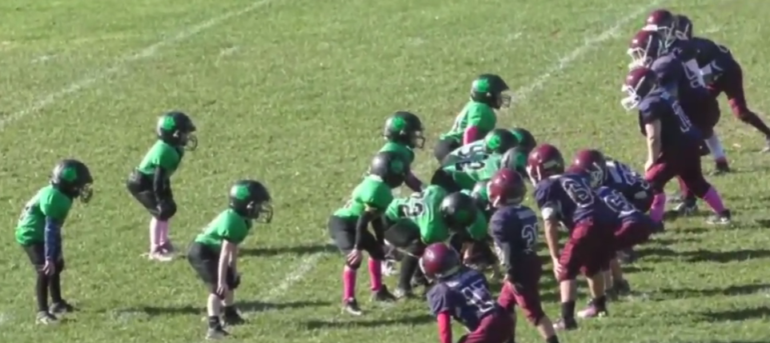 Yes, Wally, you are absolutely correct. However, I want to go 2 steps further and ask the question, who is 21-0 so far this football season? Did you say the entire Griswold Youth Football League as a whole? Why, you are also correct!!
All 3 divisions, (micros, juniors, and seniors) are undefeated 7 weeks into the season. Griswold has scored definitive wins against towns that have been successful and consistent on developing players that have gone on to their, at some times, dominant High School Football teams. We're talking Groton, Stonington, Windham just to name a few towns that have strong High school teams, which is largely due to their youth programs.
"I've been with GYF since 2007 with my sons and I've been coaching this group of kids since 2017. This group is full of talent with multiple weapons and we've all grown together" says Junior Division Head Coach Sean McFadden. The juniors at the beginning of the season was picked to go all the way to the Super Bowl this year. "Our biggest test is going to be Waterford who is also undefeated. We've fallen short in the playoffs before, but we feel that this is going to be our year."
Let's hope Coach McFadden is right since the Griswold Football field sidelines have been completely worn down with large patches of what used to be grass from his pacing back and forth. One thing is certain, McFadden is intense, however, he has the team's respect to hopefully go all the way this year.
The success of the organization, or any organization for that matter starts at the top. GYF and Cheer President Jeff Cassidy gave us a statement on his thoughts regarding the leagues success from the past up until today. " I think a lot of our success comes from just surrounding ourselves with coaches that are truly here for the kids. The passion the coaches bring to the table to bring out the very best in every athlete is a huge part of it. We have such a tight knit community that our entire league really rallies around everyone and supports each other. We may have 3 teams but we really look at ourselves like one entity. We have many siblings at two different levels so there are a-lot of people involved with multiple teams. Many of our coaches have been here for years and the kids really look up to them. Coaches keep the the kids accountable to be the best athlete they can be and overall good kids off the field as well. We may be a small town but we have a lot of great talent here for the coaches to work with. We are GRISWOLD STRONG!"
Seven weeks in the books. Seven weeks of nothing but wins. But, the season isn't over. There are still challenges to come. This coming weekend, it's Killingly AT Killingly. Keep the cheers coming. Keep the support high. Come out to the games (or watch them on SNSN) to root for your favorite team/player. The coaches can do what they do. The fans can do what they do. One thing is for sure. Coaches, players, families love the game. We ARE Griswold Strong… and you can't teach that.