Griswold, CT (February 24, 2022) – Griswold Public Schools is pleased to announce that Griswold Middle School's Learning Commons, formerly known as the Library Media Center, was selected as an American Library Association's American Rescue Plan: Humanities Grants for Libraries award recipient. This emergency-relief grant program provides $2 million in emergency funding from the National Endowment for the Humanities (NEH) through the American Rescue Plan Act of 2021. Griswold Middle School's (GMS) Learning Commons was one of 200 libraries nationwide selected by the American Library Association (ALA) for a $10,000 award to create and sustain humanities programs.
GMS Library Media Specialist Laurie LaBossiere will direct the program, which will deliver services related to culture, history, literature, and other humanities subjects. Programming will include a series of in-school programs with the Mashantucket Pequot Museum, new books that diversify the School's titles, subscriptions to online databases, and an investment in academic-specific virtual reality goggles that will be utilized for Google Expeditions and other educational programs.
"We are so proud to be selected for a $10,000 grant to support humanities programming in our school library," said LaBossiere. "These enriching programs will tie into the School's history curriculum and offer unprecedented resources for students, whether they utilize the Learning Commons individually or with their class."
In March 2020, just one week after the schools shut down due to the COVID-19 Pandemic, the GMS Library suffered a devastating flood; the library lost many books and makerspace resources. This grant funding will help rebuild the library's collection of books and digital resources for students for years to come.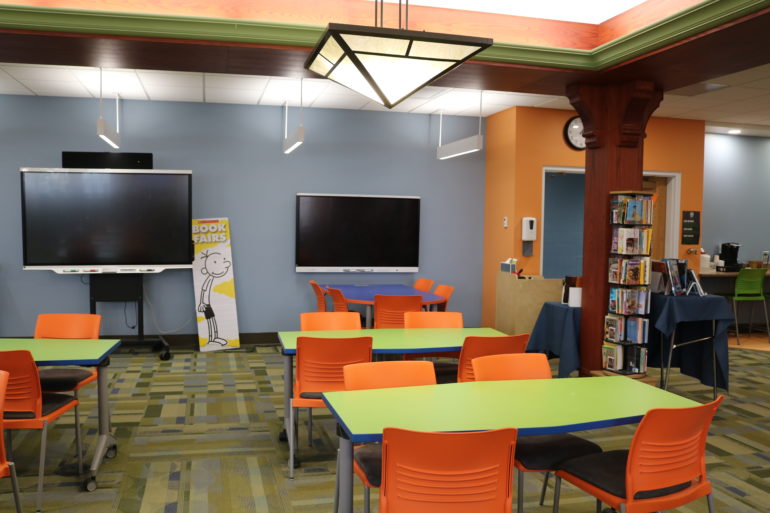 "Libraries have the potential and unique positionality to help Americans realize their highest visions of themselves—to think critically and ask big questions about the world and our place in it," said ALA President Patty Wong. "ALA is deeply grateful to the NEH for recognizing libraries' unique importance as incubators for the humanities and providing this funding to help libraries meet our communities' cultural needs and emerge from the pandemic stronger than ever. "
"The GMS Learning Commons provides an inclusive, collaborative space for all students and staff. We hope this award sparks excitement in the community!" said LaBossiere.