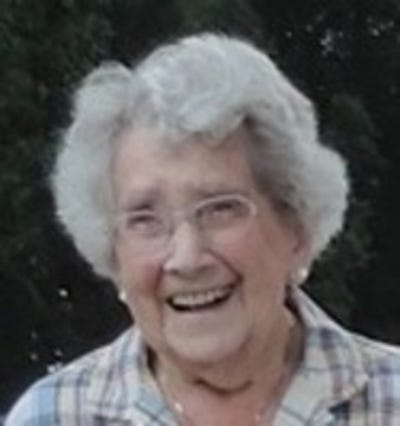 Loretta Manning, 101, of Jewett City, passed away peacefully at her home on December 2, 2021. She was the daughter of Henry and Marie Louise Topping, and wife of the late Edward H. Manning.
Loretta grew up in Lawrence, MA before coming to Jewett City with her family in the 1940's. She worked at the Thermos Company and as a social worker before her marriage to Edward.
She returned to college to earn a master's degree in Education from Eastern Connecticut State University. She taught for many years at Griswold Elementary School before her retirement in 1985.
Loretta is survived by her three daughters, Diane Manning, Mary Ann Manning and Susan Manning, all of Jewett City. She was predeceased by her husband, sister Rita (Fred) Marzec, brother Joseph (Anne) Topping and brother Norman "Bobby" Topping. She is also survived by numerous nieces and nephews, including Fred and Pauline Marzec, Larry and Sandy Lumbert, Jack and Jane Puzine, Jim and Marion Manning and "niece" Nora Kaszuba
Calling hours will be at Jewett City Leffler Funeral Home on Sunday, December 5, from 4-7 p.m. A funeral Mass will be held on Monday, December 6, at 10 a.m. at St. Mary Church in Jewett City, followed by interment at St. Joseph Cemetery in Greenville, CT.