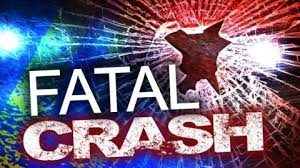 On Thursday, November 12, 2020 at approximately 10:07 PM, an accident occurred on I-395 when a 1998 Peterbilt tractor trailer, driven by 64 year old Kevin Scott of Perpperell Massachusetts, carrying cars, was traveling southbound in between exits 28 and 24 (Plainfield to Griswold).
The driver lost control of the vehicle for an unknown reason, swerved to the right and drove through a metal guard rail along the right shoulder of the highway. The truck then went down a steep embankment and came to a stop after colliding with a tree.
The Connecticut State Police Collision Analysis and Reconstruction Squad responded to the scene to assist with the investigation.
Anyone with information regarding this crash or anyone that was an eyewitness is asked to contact Trooper Workman at Troop E Montville, 860-848-6500.
Lifestar was called for transport of the driver to a medical facility but was cancelled when the driver, Kevin Scott, was pronounced dead on the scene from the injuries he sustained in the accident.
The crash remains under investigation.