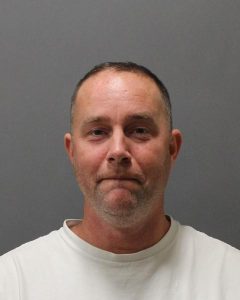 On December 8, 2020 at approximately 10:44 P.M., the Plainfield Police Department arrested 42 year old Tobi Long of Sterling.
While conducting traffic enforcement in the area of Main Street in Central Village an Officer observed a red Ford Fusion traveling southbound cross over the yellow line into the opposite lane. The vehicle then made a left hand turn onto East Main Street, Central Village.
A motor vehicle stop was conducted where the vehicle was occupied by two people. The operator of the vehicle was identified as Long. An investigation was conducted where Officers believed Long was under the influence of alcohol and/or drugs. Long was asked to exit the vehicle and submit to a field sobriety test which he failed. During the investigation Officers became suspicious that Long was in possession of illegal drugs. The Officer deployed his K-9 Vail, a male yellow Labrador trained in narcotics detection who was used to sniff Long's vehicle where K-9 Vail alerted to the presence of narcotics. A search of the vehicle was conducted where Officers discovered Long to be in possession of a large amount of marijuana packaged for sale.
Long was placed under arrest and charged with Failure to Maintain Proper Lane, Operating Under the Influence of Alcohol and/or Drugs and Possession of Marijuana with Intent to Sell.
Long was released on a $25,000.00 bond and is scheduled to appear at the Danielson Superior Court, February 8, 2021.