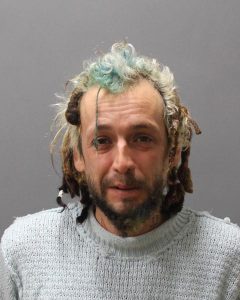 On February 3rd, 2021 at approximately 2:26 A.M., members of the Plainfield Police Department responded to Sam's Food Store located at 219 Main Street Moosup, CT for the report of a suspicious male trying to gain entry into the building.
Upon arriving on scene the individual was identified as 34 year old Jeffrey Liebel of Levittown, Pennsylvania. Officers observed damage to the front doors of the store including cracked glass and pry marks in addition to several hand tools in Liebel's vehicle. After conducting an investigation on scene including reviewing surveillance footage, Liebel made several attempts to pry open the locked doors using the hand tools in an attempt to gain entry to the store.
Liebel was placed under arrest and transported to the Plainfield Police Department. Liebel was charged with Criminal Mischief 2nd Degree and Criminal Attempt to Commit Burglary 3rd Degree. Liebel was held on a $15,000.00 bond and is scheduled to appear at the Danielson Superior Court, on February 3, 2021 at 8:30 A.M.