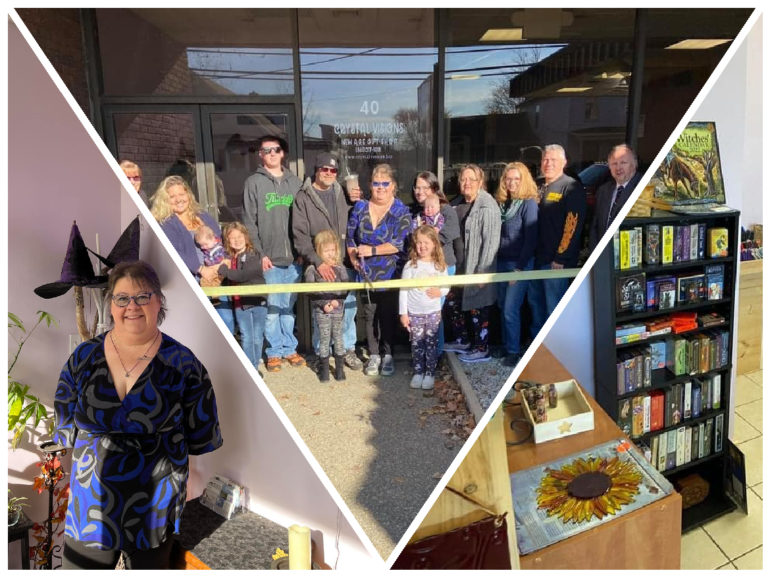 Lisa Soucy of "Crystal Visions New Age Gift Shop" in Plainfield… wait… Jewett City?  Aren't they in Jewett City?  Well, they were!  They just moved the store into a brand new renovated space on railroad ave in Plainfield.
We asked Lisa to answer some questions about her and her store.
What is your name and what is the name of your business/address/phone?
Lisa Soucy
Crystal Visions
40 Railroad Ave
Plainfield, CT 06374
(860)317-1018
How did you choose the name of your business (if relevant)? Seeing things clearly. The logo is the eyes are the key to the soul.
What business are you in? Retail Gift Shop
What do you sell? Crystals, candles, candle holders, incenses, incense burners, books, tarot cards, and several services.
Do you have a web site, facebook page, or both?  Both
What are your hours of operation, or if a store, times you are open? Thursday 10am -4pm, Friday & Saturday 10am – 5pm, Sunday 10am – 4pm
When did you open for business? March 15, 2013
What locations do you have as well or have had? Had a location in Plainfield, Danielson, Wauregan, Jewett City. Now moved back to Plainfield
What got you interested in the business you are currently in? Had to follow my dream of opening a New Age gift shop. (Spiritual Shop)
Is this a business that you have a background in? Training? Experience? I have been in the retail business for over 40 years, I have a degree in accounting and business management. I am a certified Reiki Master Teacher and also a certified medium.
Are you the sole owner, any family members involved?  I am the sole owner but have the support of my family and would not be where I am today if I didn't have them.
Why did you open this business? I made a promise to my momma before she passed, I would open Crystal Visions and follow my dream and have a shop like they have in Salem Mass. (One of her favorite places to visit.)
What can customers/clients expect when they come into your location: A nice friendly environment where they are always welcomed.
Tell me, in a brief, 100 words or less, the story of your business (what you would say to a customer or client that asked you the same question). Also, list other information that you feel is relevant to your business that we haven't asked that you would like to communicate: 100 words or less I had a dream to open a business of this nature so I followed my dream and made it happen. I would have to say to anyone out there if you have a dream then only you can make it happen. Its hard work and takes a lot of time but if you stick to it you can make your dreams come true, no matter how hard it may seem.