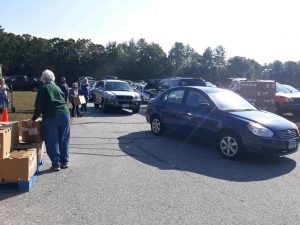 This past Saturday, October 10, 2020, the Griswold Senior Center in conjunction with "Farm to Families" led a food drive that distributed a 50 lb food box to anyone that wanted one.
The event started at 8:30 AM and went until noon. The Center said that they got off to a "rough start" but "managed to serve all that needed."
Along with the senior center were volunteers such as Griswold First Selectman Todd Babbitt, 18th District Senator Heather Somers, Voluntown First Selectman Tracey Hanson.
The boxes that were given out contained meat, cheese, a gallon of milk, as well as fruits and vegetables.
The Senior Center is going to replicate the event on October 31, 2020 once again at the Town Garage on route 138. This time, Flu shots will also be available to any that want.
Picture Credit:  Griswold Senior Center